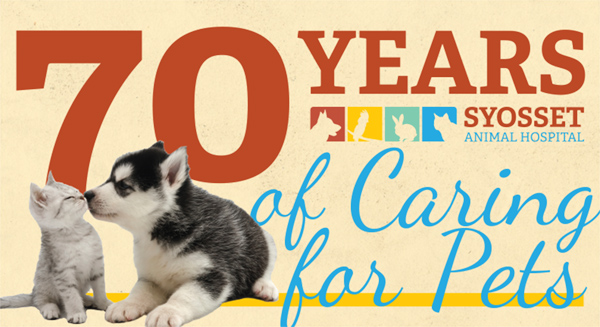 A lot has changed since 1946. 70 years ago, you could see a movie for 50 cents or mail a love letter for three. What hasn't changed, though, is Syosset Animal Hospital's commitment to your animal friends. Since we opened our doors in 1946, we've celebrated the bond between humans and animals by offering you the highest quality care for your pets.
Over the last 70 years, we've remained on top of changing veterinary technologies and have incorporated them into our practice. Today, at our state-of-the-art facility, we offer innovative services like laparoscopic spays, a procedure that is less invasive than traditional spays and allows for faster recovery time, and platelet enhancement, which targets healing to damaged tissues. Plus, our stem cell therapy, which uses somatic stem cells found in fat tissue, can help speed your pet's recovery from a variety of ailments, from joint, ligament and tendon damage to allergies and kidney disease. Our cutting-edge services ensure that your pets always receive the up-to-date and attentive care they deserve.
Thank you for allowing us to meet and care for your beloved animal family members. We treasure the place we've held in this community for the last 70 years, and we look forward to the many years and innovations still to come.