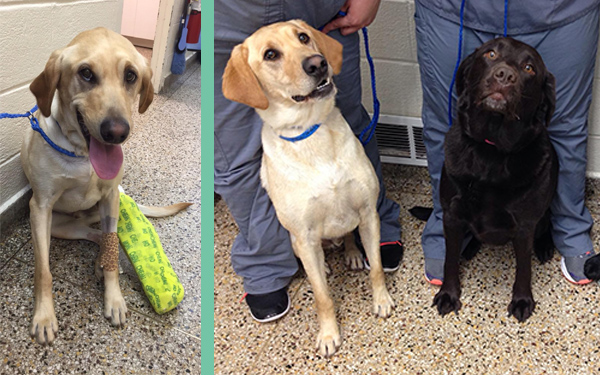 Bauer is a 2-year-old labrador retriever that was unable to walk on his hind left leg when he came to Syosset Animal Hospital. A freak accident with a barbecue grill left Bauer with a lacerated calcanean tendon, more commonly known as the Achilles heel.
This repair is not a common procedure, so we recommended surgery with a board-certified veterinary surgery specialist, Dr. Infernuso. We arranged for the surgery to take place right at our hospital.
After his operation, Bauer was in a cast specially molded to his leg. It was extremely important for him to rest in order to recover fully. As a pup, he was full of energy, so getting him to sit still for 12 weeks was a challenge! But with special attention and lots of TLC, the months flew by (although we're sure Bauer's mom would disagree with that).
You can now find Bauer romping around in his backyard and playing fetch with the best of them! To put icing on the cake, his surgery, recovery and physical therapy were all covered by insurance.